NORWAY NUMBER ONE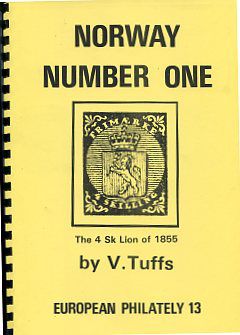 Price

£8.00

Stock Code

#0006
NORWAY NUMBER ONE
Specialised handbook, by V. Tuffs, providing full plating and postmark information for Norway's first stamp. In 1983 we undertook a survey of the 3000 examples of Norway Number One that had been offered by auction over a 30 year period. This gave a wide census of the field, and brought top light some "lost" postmarks and blocks not present in the major collections currently exhibited.
The book gives the history of the issue and postal services at the time, details of printing and major varieties, complete plating guide of the 200 positions, list of major blocks recorded in the survey, and, perhaps most important, full list of known postmarks - gridirons, circular town postmarks, numeral cancels, manuscript provisionals, steamer cancels and foreign cancels applied on arrival abroad. In view of the extensive survey of auction lots carried out in this research, the postmark list is more extensive than any previously published.
52 pages, A4 format, illustrated in black & white, spiral bound, card cover, published 1983.
ISBN 0 906845 26 2
Please add for postage when you order!


Click image for a larger view of this item...
---