RUSSIAN RAILWAY POSTMARKS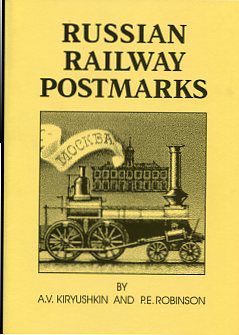 Price

£20.00

Stock Code

Barefoot Publication
RUSSIAN RAILWAY POSTMARKS
2600 Russian railway postmarks are listed (and mostly illustrated) in this major study, with rarity guide, plus explanation of the travelling post office system, and maps of the routes. Sections cover Station postmarks, Numbered T.P.O.s (both oval and circular types, along with dates of use), un-numbered railway postmarks, postage due marks of the railway system, and non-railway VOKZHAL station postmarks.
Authors A.V.Kiryushkin and P.E.Robinson spent four years of research into archives in Russia and study of numerous collections in the West.
The 15 pages of maps will greatly assist the collector in working out the complex routes that letters often followed around the Russian Empire.
180 pages, card cover, A4 format, published 1994.
ISBN 0 906845 47 5
When you buy this book from us, we also send the 16-page supplement of new finds and corrections made in the years since publication of the original work.


Click image for a larger view of this item...
---